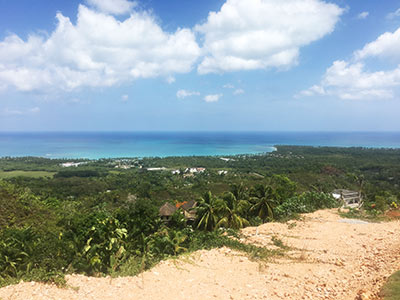 Altos de Cosón: 5 beautiful lots for sale on the Coson hills overlooking the sea – Las Terrenas
ref: T-CO-13
Price
60 US$/ m²
Description: 5 magnificent lots ranging from 1,847 m² to 2,738 m² for sale at US$60 / m²
in Altos de Cosón, a private gated estate, all with magnificent views of the sea.
Services provided during the site preparation of Altos de Cosón:
Murs d'enceinte en pierre de chaque côté des 2 entrées de la résidence. Le reste en périphérie est clos par de la maille cyclonique.
Portail automatique en métal pour chacune des 2 entrées.
Routes en béton rainuré sur remblai caliche compacte de 120 mm pour desservir chacune des 5 parcelles.
Caniveaux en bordure des routes pour l'écoulement des eaux.
Passages techniques sous-terrain pour la distribution de l'électricité et l'intercom de chacune des parcelles.
Massifs lumineux pour l'éclairage des parties communes en interne comme à l'extérieur de la résidence.
Transformateur électrique relié au réseau et destiné a recevoir chaque compteur de chaque parcelle ainsi que celui des parties communes.
Maison de gardien (lavabo + WC)
Espace pour ordures ménagères.
Aménagement des espaces verts des parties communes de la résidence.
Citerne de stockage d'eau pour les besoins des parties communes.
Location: Cosón