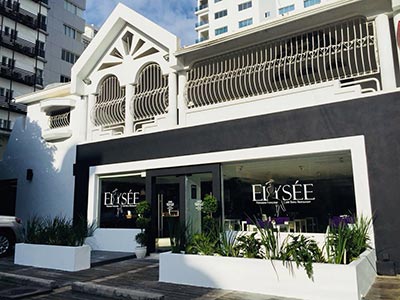 Bakery / Coffee shop - Bistro Santo Domingo Business Area (Piantini)
ref: RE-15
Price
Contact us with the reference above
Description: Located in the Piantini area of Santo Domingo, the center of Dominican Republic´s capital city downtown business area and up-market residential area, this Bakery– Pastry shop – Café Bistro – Restaurant produces and sells typical French specialties and products in the dining room and to take away and has an upscale loyal clientele.
Ground Floor:
Comprises the SHOP with small terrace. Display cases and take-away area. Table service in the dining room or on the patio: - breakfasts - brunches - salads - sandwiches - crepes - bistro menus and elaborate catering - pastry tasting and pastries, breads and ready meals to take away.
DINING ROOM: 32 seats.
PATIO: 20 seats
2nd Floor:
LOUNGE - CONFERENCE ROOM: 20 seats
VIP SMOKING ROOM: 6 seats.
PRIVATE APARTMENT 1: 80mt²: 1 bedroom, living room and terrace, bathroom and dressing room
PRIVATE APARTMENT 2: Studio: 50mt² to renovate
3rd Floor:
PRIVATE APARTMENT 3: 100mt² loft apartment with terrace patio
AREAS
Shop 130 mt²
Patio 90 mt²
Kitchen 50 mt²
Bakery area 40 mt²
Toilettes 7 mt²
Store room 14 mt²
Conference Room 30 mt²
VIP Smoking Lounge 15 mt²
Apartments 165 mt² + 1 utility room + 12 mt² workshop
Parking for clients 100 mt²
Staff toilettes, locker room, rest and dining area on patio
Location: Santo Domingo Colonial Zone, historical center.
Note:
Open TUESDAY through SUNDAY 7:00am to 7:00pm Outsourced catering services DELIVERY and VALET PARKING Services
DEVELOPMENT OPPORTUNITIES
- Open evenings for After Work and dinner service (wine bar and/or cocktail bar)
- Expand into pastry production for other restaurants
- Expand fast-growing delivery service
- Expand into sales booths in shopping malls Monthly rent for entire building:
US$ 3,150 / 8 year renewable lease (Exceptional price and conditions for the area) Business sold with company and trade name, fully furnished and equipped - Excellent profitability and future development prospects.
CURRENT STAFF Dining hall – 4 servers Pastry kitchen – 1 pastry Chef + 1 assistant Kitchen – 3 employees Cleaning and dishwashing – 1 employee