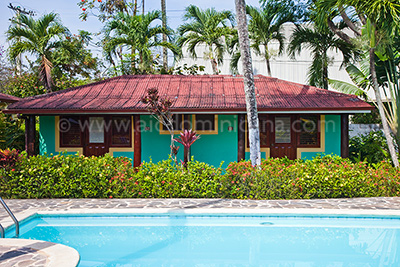 Hotel for sale - Village entrance - Las Terrenas. Dominican Republic
ref : HO-2
Price
Contact us with the reference above
Description : This lovely little hotel is right at the top of the town, just after the Atlantic Boulevard crossroads.
It is arranged around a swimming pool and lovely gardens and has a spacious restaurant and reception area at the entrance along with a car park for 15 vehicles.
Playa Bonita is only 5 minutes away and the town, with all its amenities, only 2 minutes away.
Details : Grounds: 3,700 mt²
Pool, parking
Buildings: 922 mt², of which 155 mt² correspond to the restaurant
Location : Las Terrenas center
Note :
Administration 100 mt² with reception, waiting room, office, toilettes.
15 mt² outbuilding: Equipment room, 2 Internet Wifi Modems, telephone exchange, filing cabinet, storeroom
10 mt² machine room for pool and Jacuzzi + emergency 40 HP generator
8 bungalows (4 with A/C and 4 with ceiling fans), bathroom, Cable TV, Mini bar, safe, telephone, hair dryer, terrace – Accommodate 1 to 3 persons.
One (1) 75 mt² Bungalow with: American style fitted kitchen, living /dining room with 2 convertible sofas, bathroom, large bedroom, terrace, refrigerator, TV, safe, telephone, hair dryer - Accommodates 1 to 5 persons.
12 mt² laundry with washing machine + cistern + storage for housekeeping products
Two story building - 35 mt² - with BBQ and terrace, store and stock room for restaurant, cold room, – Ground floor: employees´ locker room with toilets and shower.
Restaurant: Large fitted kitchen, dining room for 40, 2 toilettes, TV den, lounge area, bar.
Pool and Jacuzzi area with chaise lounges
Video camera surveillance.
Hotel for sale entirely fitted and furnished.