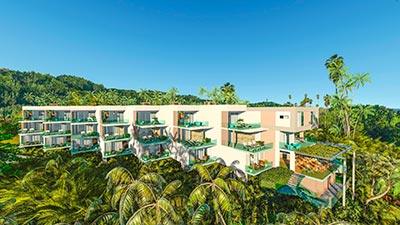 24 apartments, sea view, 500 m from the center of Las Terrenas and 600 m from the beautiful beaches
Las Terrenas – Dominican Republic
Altea Apart Hotel
Price
from
171000 US$
Description: The ALTEA APART HOTEL residence is located on a hill 500 m from the center of Las Terrenas
and 600 m from the beautiful beaches.
With panoramic views of the Atlantic Ocean, ALTEA APART HOTEL has some of the most
stunning landscapes including the vibrant colors of the sea, sky and endless palm trees.
From its contemporary-style apartments, ALTEA APART HOTEL boasts large floor-to-ceiling
windows open to the ocean, rooftops with breathtaking views, high quality services, pool
area, bar-restaurant, gym and spa, facing the sea, making ALTEA APART HOTEL a single
project in Las Terrenas.
The residence consists of 24 apartments in 16 contemporary style units, each apartment
offering breathtaking sea views, bright natural light, and terraces subtly combining shade
and sun.
Ideally located close to all amenities, with access to the beaches of Popy and Las Ballenas
and in the center of the village with shops, ALTEA APART HOTEL meets all your expectations
for comfort and tranquility.
ALTEA APART HOTEL has a private gym, as well as a restaurant with panoramic views and a
spa, both open to the public.
Details: Located on a 5,790 sqm (62,320 sqft) plot, the residence consists of 24 very spacious
apartments, with sea views and surrounding lush hills. The 2 exclusive apartments have views
of the pool too.
8 one bedroom apartments with roof top
8 two bedroom duplex apartments
8 three bedroom apartments including:
6 triplex + rooftop
2 exclusive duplex + sea front rooftop
A noter:
Walled land
24-hour Guardians
Tree and landscaped garden
Security barrier at the entrance
Private parking
Pool
Bar/Restaurant
Spa
Gym
Optional hotel service
Location: Center Las Terrenas19.308050, -69.529352