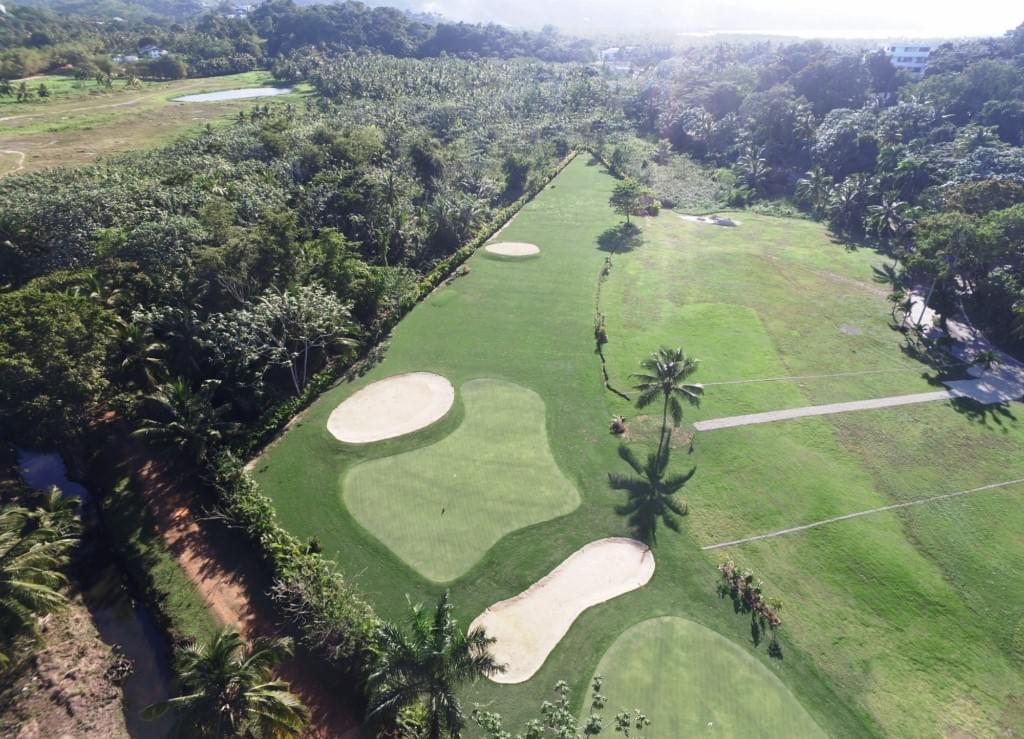 New project
17 contemporary style luxury villas spread out on a 2.5 hectare park
A private golf space consisting, pitch and putt, on 7000 m² - Las Terrenas – Dominican Republic
THE GREEN
Price
from
410000 US $
Description : 17 contemporary style luxury villas, ranging from 250 m² to 400 m², spread on a 2.5 hectare park.
Details : A private golf space reserved to the 17 owners, consisting of two PAR 3 courses respectively of 131 and 195 yards, with bunkers and a 500 m² green and a putting green for approaches up to 90m and putting practice.
The Green residence enjoys quiet settings and a natural environment which are unique in Las Terrenas.
It also benefits from all the Bonita Village amenities : large swimming pool, tennis court, security, road and interior green spaces maintenance, natural lagoon hosting several species of fish and turtles.
The project will offer a double level of privacy, the one provided by the residence itself, completely closed, and the other provided by the Bonita Village estate within which the project is located. The fact of being able to leave the area with a direct access to the beach also provides a certain peace of mind.
The layout of both the villas and the hedgerows within the project will ensure each client enjoys views on the park and fairways.
Each villa will have a lot size of about 1100 m².
We propose 4 different models of villas, 1-storey or 2-storey.
Note :
Clean and minimalistic lines, high ceilings, full bay windows, bathrooms opening on gardens and large volumes offer a sense of space and openness and make these contemporary villas functional and pleasant to live in.
The architecture of the villas has been designed to ensure a maximum of rooms overlook the park and fairways.
The East/Southeast orientation of the villas is perfect to benefit from the ocean trade winds, ensuring freshness and ventilation in the property.
Gardens come with lawn and trees of your choice.
The intimacy of the living space is protected by walls and hedgerows, while offering a clear view of the park and fairways.
Each villa comes with its swimming pool or swimming lane, enjoying a salt based water treatment system ensuring soft and fresh water on the skin, without added chemicals.
The villas can also be delivered fitted with solar panels.
Fans supplied in all rooms
Air conditioning supplied in all bedrooms
All villas are connected to the local city water system (INAPA), providing purified drinking water.
A rainwater recovery and storage system may be implemented to complete the ecological and autonomous aspect of your villa.
Location : Bonita Village – Las Terrenas.19.32229, -69.5306