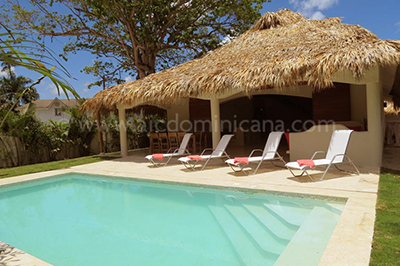 Villas for sale
Las Terrenas – Dominican Republic
Mareva Residence
Price
from
360000 US$
Description: At 200 m from the beach of Las Ballenas and the Fishermen Village, in a quiet area, the Mareva residence consists of 10 villas.
Details:The main entrance is from Avenida Italia and then first street on the right, a second access exists from Playa Las Ballenas, entering in the first street on the left after the Avenida Italia.
Whether an acquisition for rental purposes or for personal use, the location of the residence Mareva is well.
Note:
Villa with individual property title and deslinde
4 bedrooms with 4 full private bathrooms, half bathroom for guests at the first level, kitchen, living room, covered terrace, laundry. Area of 2260 sqft (210 sqm).
Marmoline pool of about 375 sqft (35 sqm) with decorative water line + equipment room
Outdoor terrace of 320 sqft (30 sqm)
Lateral walkway with mangrove wood pillars.
Floors with coraline stone (or tiles), one wall of the living room decorated with caliche stones, bathroom with marmoline and coraline stone.
Interior frames and doors with noble wood
Concrete roof covered with cana
Polyethylen piping system
Individual gas water heater
Pre-wiring for telephone and cable TV in the living room and bedrooms
White ceiling Fans KDK trademark or equivalent (2 terrace, 1 in each room)
Standardized electrical circuit 110/220 V (kitchen and bathroom) protected by individual breaker
Faucets with mixer taps
Kitchen with double stainless steel sink.
Bathroom with vanities and washbasin, shower and mirror
Bedroom closets with local oak
Laundry with inlet and outlet for a washing machine
Comon Areas
Automatic entrance gate
Intercom at the main entrance
Watchman area
Pre coating for telephone and cable TV
Comon area lighting
Enclosed trash area
Individual Parcels
Private gate
Fully enclosed and landscaped garden
Outdoor tap in the garden
Outdoor shower
Location: Fishermen's Village19.32229, -69.5306