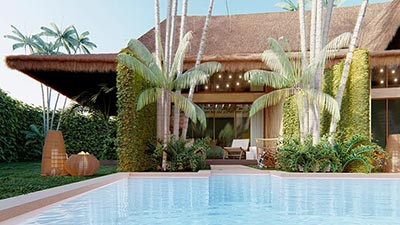 Small hotel of 7 rooms plus office apartment, very well located - Las Terrenas. Dominican Republic
ref : HO-8
Price
970000 US $
Description : Takuma is a boutique hotel that stands out from other hotels by its exclusive and pampering atmosphere and its high level of comfort. The architect of the internationally renowned project drew up the plans for a hotel where each of its occupants will feel better than at home. The swimming pool is the central element around which the suites and common areas are integrated, in complete privacy. The vegetation, the lighting, and the emphasis on elegant decoration enhance the feeling of well-being and tranquility. The furniture and decoration of Takuma Boutik Hotel are in an exotic chic style. Each carefully chosen piece is imported in partnership with the Maisons du Monde brand. Maisons du monde is our partner in view of premium positioning of Takuma.
Location is one of TAKUMA's major strengths. In a quiet, touristy and residential area, 3 min walk from Popy beach, and 5 min walk from restaurants, convenience stores, shops, and banks.
Details : On a 1,475 m² property, Takuma Hotel is developing a gross construction area of 736 m² (without parking spaces) and a living area of 636 m². Common areas include parking, reception, restaurant bar, massage room, swimming pool, solarium, garden, laundromat, storage area and space for employees. The 7 individual suites all have a private tropical garden with independent access to the swimming pool located in the extension of their garden. The apartment is located on the 1st floor, above the lobby. Common areas In order to comply with current regulations and to satisfy customers, Takuma Hotel has 10 parking spaces.
- The reception lobby : 28 m²
- Bar lounge : 41 m²
- Kitchen : 10 m²
- Covered terrace : 31²
- Pergola terrace : 41 m²
- Solarium : 30 m²
- Spa : 26 m²
- Salt pool 35 m long : 100 m²
The apartment is intended either for the accommodation of hotel guests or for official accommodation. It offers 2 bedrooms, 2 bathrooms, kitchen, living room and balcony overlooking the pool. The 7 suites are on the ground floor, 3 with a mezzanine. With different surfaces, they all have 1 king size double bed, bathroom, some with bath, covered terrace and private garden. The master suite also benefits from a private jacuzzi.
- Apartment : 85 m²
- Suites from 30 m² + private garden of 16 m² minimum :
- Room from 19 to 21 m²
- Bathroom from 4 to 9 m²
- Terrace from 6.5 m² to 12 m²
- Garden from 16 to 18 m²
ADVANTAGES
Takuma Boutik Hotel is the property of the Dominican company TAKUMA BOUTIK HOTEL SRL.
Tax advantages : CONFOTUR
The hotel has been placed under the Confotur law (Law 158-01) since September 2019. This regulation gives access to tax exemption for 15 years, and is renewable at the end of these 15 years.
To date, no boutique hotel or boutique hotel in Las Terrenas offers these tax advantages.
By acquiring the company, the new owners will in fact be able to benefit from ALL the tax advantages of these regulations, the most important of which are :
Property transfer tax exemption when buying the company (3% of the purchase amount)
Property tax exemption (IPI)
Profit tax exemption
Tax exemption in the event of capital increase, sale (for example in the event of resale of the property), contributions in kind.
Commercial / marketing advantage
Takuma Boutik Hotel SRL is the owner of the commercial name Takuma Boutik Hotel until June 27, 2029, and can renew it at vitam eternam, before each deadline.
Location : Playa Popy
Note :
High speed WIFI.
Salt pool
Fans and air conditioning in the suites and in the bedrooms and living room of the apartment.
City water (Inapa) with tank and pump + inverter
Electric water heater
Inverter (electricity and water during power cuts) : 1 for the commons
1 per suite / apartment
Cabinetmaking / carpentry in quality exotic wood (ikitiba or roble)
High-quality aluminum picture windows
Wooden roof covered with a waterproof surface then covered with cana (insulating and aesthetic)
110V and also 220V electrical outlets in bathrooms
Combination of local and imported materials (woodwork, floor coverings, wall coverings)
Local and imported furniture and decoration, to obtain a unique style