Getting to Las Terrenas
Dominican Republic is served by a number of airlines such as Air France, XL Airways, Air Caraibe, Iberia (via Madrid), Air Europa, Martinair, American Airlines (via Miami or New York) et US Airways (via Philadelphia), Continental Airlines, etc. We recommend flying into Santo Domingo or El Catey if your final destination is Las Terrenas. We advise against flying into Punta Cana as this implies a further 6 hour journey by road or expensive private internal flights.
by taxi, you have two options. Coming straight to Las Terrenas from the international airport means you´ll arrive late evening (2 hours costing approximately US$ 200*). Should you decide to overnight in Santo Domingo then a 30 minute taxi ride costing approximately US$ 35 will get you to the city center. The journey to Las Terrenas the following day takes 2h30 hours (private air conditioned taxi for max 5). Don't hesitate tocontact usfor more information
by bus. is the cheapest option. You will have to overnight in Santo Domingo as there is no bus service at night and reach the bus station the next day. Contact us for the bus time tables. Seats cannot be booked.
by car rental. Not recommended at nighttime if you are unfamiliar with the road.
How to get to Las Terrenas directly from the airport:
Leaving Las Americas airport head towards Santo Domingo and turn right immediately after the toll booth (you pay no toll) and onto the ramp for the highway to SAMANA. (If you miss the turn off you will have to make a u-turn before Santo Domingo….).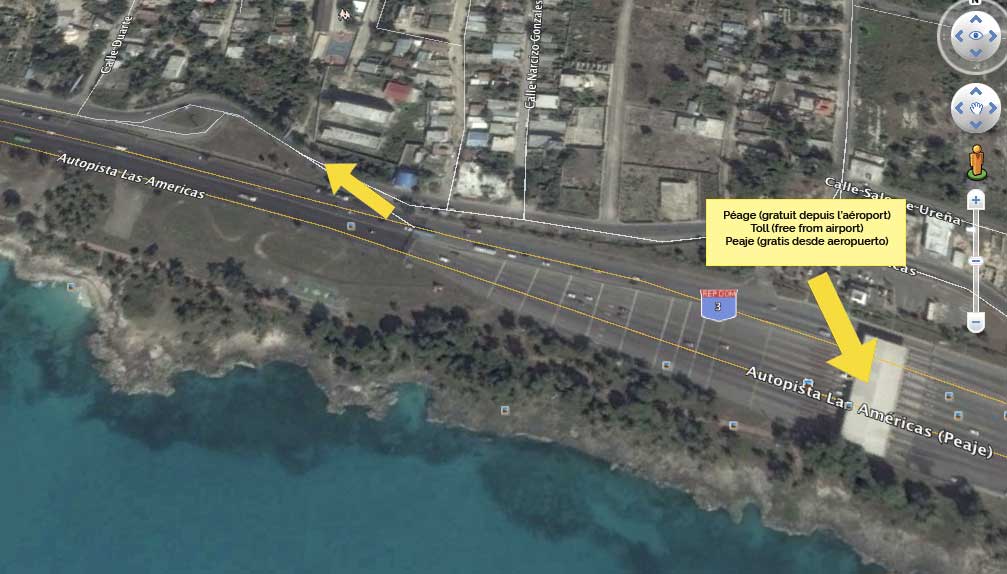 There are 3 toll booths en route and the charges come to around 400 Pesos in total. Only Dominican currency is accepted (but not bills of 2,000 Pesos, so get change before leaving the airport!). When you reach the end of the highway (about 1½ hour drive) turn right towards SAMANA. At Catey Airport on the left hand side you will find a new highway called the Atlantic Boulevard (Bulevar del Atlántico) which will take you straight to Las Terrenas. This road shortens the journey considerably and the toll is about 500 Pesos. If you prefer not to take this new road, simply drive on towards SAMANA and turn left at the Texaco gas station exiting SANCHEZ. Then it´s just a 30 minute drive over the hills to Las Terrenas.
* Rates could change