Las Terrenas – The Samaná Peninsula– Dominican Republic
If there is a unique place in the world, it is Las Terrenas on the north coast of the Dominican Republic.
Not too long ago Las Terrenas was just a small, inaccessible fishing village, with no electricity or running water. Today it has become a favorite destination for visitors from around the world as well as for Dominicans themselves.
---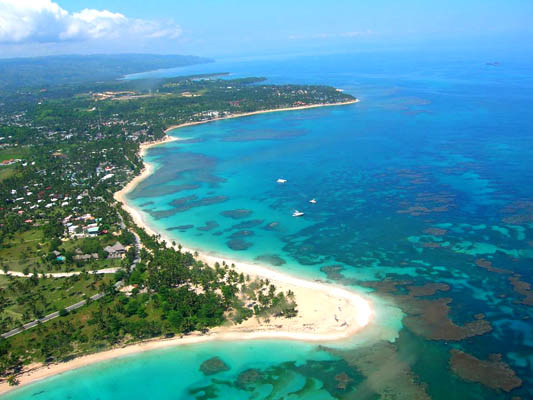 Las Terrenas also stands out for the variety of nationalities among its residents, many of whom are European and American. This small world lives in perfect harmony with the local community and everyone, in their own way, has contributed and still contributes to the development of Las Terrenas. A walk down main street and you are in Dominican Republic, France, Italy, Spain, Switzerland, Germany, USA, Canada…… all at the one time !
Las Terrenas has 25 kilometers of beaches, each one different from the next : Punta Popy, Playa Las Ballenas, Playa Coson, Playa Bonita ….. the list goes on. Depending on their particular features the beaches are favored for surfing, kite surfing or body boarding, others are ideal for diving or simply wallowing in the clear waters of the natural pools.
But it´s not all beaches. The mountains are really close. Tracks through tropical forests, rolling green hills, spectacular rivers and waterfalls, like El Limon, Los Haïtises National Park …..
Eco-tourism is a must and seasoned guides are there to share their passion and love for the unexplored.
There is a myriad of things to see and do in Samana Peninsula : 1,000 km of pure coastline beauty with the Atlantic Ocean on the north coast and the Bay of Samana, rated as one of the most beautiful bays in the world, to the south, where thousands of humpback whales come to mate and reproduce each year from January to March.
Playa Morón, Playa El Valle, Playa Rincón, Playa Frontón… one more beautiful than the next … intact, natural, unspoiled, adding to the richness and the beauty of the peninsula.
And finally no mention of Las Terrenas would be complete with thinking about the multitude of bars and restaurants each with its own flare offering an incredible variety of culinary delights.
Las Terrenas has probably the best cuisine in the whole of the Dominican Republic. Treat yourself to Dominican, Creole, French, Italian and many more specialties at very reasonable prices.
The Dominican welcoming smiles, music, dance, food, luxuriant well preserved nature, cultural diversity …. Las Terrenas offers all this, things you will never experience while staying at an all inclusive resort excluded from the real Dominican Republic.